Stuck in an Endless Music Loop? Here's Four Music Resources for You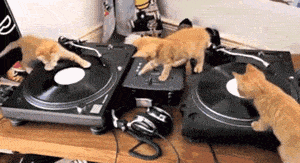 Music is a vital element to any video production. It's the heart and soul of a video. Yet finding good music is often a huge time waster
But with music, we tell our audiences what to feel and think when they watch a video.  Music can imply subtext and give contextual meaning to the images on a screen. This technique isn't only for Hollywood films and shorts. It applies to social videos and corporate messaging as well.
Music is more than just "wallpaper," providing something to listen to in the background of your video. (PSA: If you're using music this way, please stop. There's better ways to use music. If you want to learn more, my book teaches you all the details.)
Music gives us great power to trigger an audience into any action we want.
Okay, now that I've told you why music is important, here are my four favorite online resources where I love to find the right tracks for my clients.
AudioBlocks.com This subscription site has a vast library of music, sound effects and loops. The price point is nice: $149 a year gives you access to as much as you can use. The only drawback is that music from AudioBlocks can sometimes sound canned. But if you're producing a fair amount of social content, the price can't be beat.
PremiumBeat.com Few sites curate as fine a selection of high quality music as PremiumBeat.com. Their search function is superb, helping you find that right track quickly. Unlike AudioBlocks, however, you must license each track when you need it. And at $49 for a standard license, it can add up pretty quickly.
Pond5.com Yes, Pond5 offers music! This stock footage site has expanded its offerings in recent years and the music selection does not disappoint. Like PremiumBeat.com, you must license each track. But often the price is a little cheaper.
SmartSound.com I've used these high-quality tracks for almost a decade. Not only can you license whole albums, you can license individual tracks. And if you have their SonicFire software, you can use stems to easily customize the track to your specific music timing and needs.
Another way to save time looking for music:
So there you go! Those are my four favorite places to find good quality music at a variety of price points. Every one of them gives me plenty of options to satisfy my client's needs.
But sometimes, knowing where to find good music isn't enough to save time in post.That's when letting somebody else do the searching while you move on to more important work might be your better option.
If you're looking for someone to take care of your music–and the rest of your video post-production–just click here to get started.